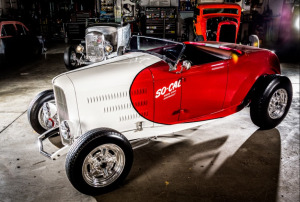 So-Cal Northwest is a full service shop that can build rods, customs, restorations and vintage cars located within Tualatin Auto Body. We carry parts and accessories for hot rods, street rods, classic cars & trucks, muscle cars, antique cars & trucks and much more! Memorabilia & clothing from your favorite brands.
We represent all the major hot rod parts manufacturers and can ship to your door.
Please call if you need any assistance with parts ordering or restoration work. Our master fabricators and technicians are here to assist you with your dream car. Our shop and showroom are located in Tualatin Auto Body at the corner of Tualatin-Sherwood Rd. and Teton Rd. in Tualatin.
You can also shop our online catalog here. Order directly online or give us a call at 866-692-4558.
Like So-Cal Northwest on Facebook!

503-692-4558 or 866-692-4558